 XX International Congress of Analytical Psychology in Kyoto, Japan August 28th – September 2nd, 2016
International Congress of Analytical Psychology is a multi-dimensional event, held in different countries around the world once every three years. This event is always : inspiring – Japanese congress topic was : 'Anima Mundi in transition: Cultural, Clinical and Professional Challenges', there were many lectures and workshops; social – an opportunity to meet Jungians from all over the world; organizational – a new leadership is being voted, new institutes approved, new Jungian from the router training are being certified – from those countries where there is no established training institutes – among them also Poland.
The Association Jungian of Japan (AJAJ) was responsible for the congress organization. It took place at the International Centre in Kyoto, which provided not only excellent technical conditions to give lectures and talks, but also organized an interesting cultural program which introduced Japanese culture to the visitors from Europe and America. There were demonstrations of traditional Japanese puppet theater, movies, zen meditation, calligraphy and origami lessons and art exhibition. For those interested, organizers provided additional tours around Japan. All congress materials were published online in English, which is a very good new habit, and we hope that this new tradition will continue. The picturesque town Kyoto, arrived 700 participants from around the world, including 8 of the participants from Poland.
For members of the Polish Society of Analytical Psychology (PTPA) that Congress was of a very great importance, because during the closing ceremony 4 PTPA members: Krystyna Węgłowska- Rzepa, Bartosz Samitowski, Ewa Winkler and Jolanta Kowal – received certificates of the Jungian Analyst within Router Programme of International Association of Analytical Psychology (IAAP). For polish participants Congress in Kyoto was not only an opportunity to expand their knowledge, listen to inspiring lectures and participate in workshops, but also time of celebration after years of training.
At the Congress, in accordance with long-standing custom, delegates elected a new leadership and approved the next President. It was the end of responsibilities of the President of IAAP for Tom Kelly, and time to take theoffice by Marianne Muller. Marianne Muller will perform this function until 2019.The next president-elect, Toshio Kawai has been elected. He will take a place as a President ofIAAP in 2019. Delegates also voted to the place of the next Congress, it will be come back to Europe – this timeCongress will take place in Vienna, previous  congress held in Copenhagen in 2013.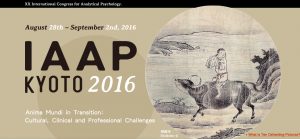 Posted by Ewa Winkler.